Location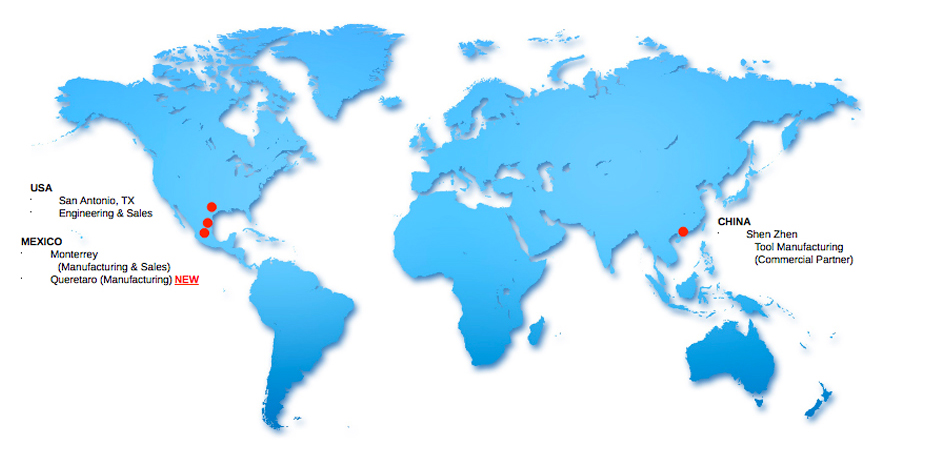 Where are we?
We support Global Manufacturing Firms' local-plastic-component needs and supply firms in the US with plastic parts and assemblies high in value-added content.
Situated in a strategic area in the North of Mexico we are well connected to the US through NAFTA road and we can get products to Laredo, TX in one day.
Our Querétaro site is also located in the NAFTA road and 1 day away from Laredo. Due to the intense activity from this area to the border there are multiple freight options to the US that has daily runs to Laredo.
Location
Providence Plastics has a Sales and Engineering  office in San Antonio, TX USA.
Providence Plastics' manufacturing operation is strategically located in the Monterrey Metro Area in the State of Nuevo Leon, Mexico.
Providence Plastics Querétaro is located in Central Mexico close to most of the Automotive OEM´s (Honda, Nissan, GM, Mazda, Toyota, BMW, VW, etc) and their supply chain.
Location – Shipping Lead Times – USA
| | | | |
| --- | --- | --- | --- |
| City | km. | Miles | Consolidated freight delivery time from Providence Plastics |
| San Antonio, TX | 477 | 297 | 2 – 3 working days |
| New Orleans, LA | 1345 | 836 | 4 – 5 working days |
| Phoenix, AZ | 2051 | 1275 | 5 – 7 working days |
| Atlanta, GA | 2063 | 1282 | 3 – 5 working days |
| Chicago, IL | 2470 | 1535 | 5 – 7 working days |
| Los Angeles, CA | 2650 | 1647 | 5 – 7 working days |
| Miami, FL | 2694 | 1674 | 5 – 7 working days |
| Detroit, MI | 2837 | 1763 | 5 – 7 working days |
| New York, NY | 3413 | 2121 | 6 – 8 working days |